Save The Chelsfield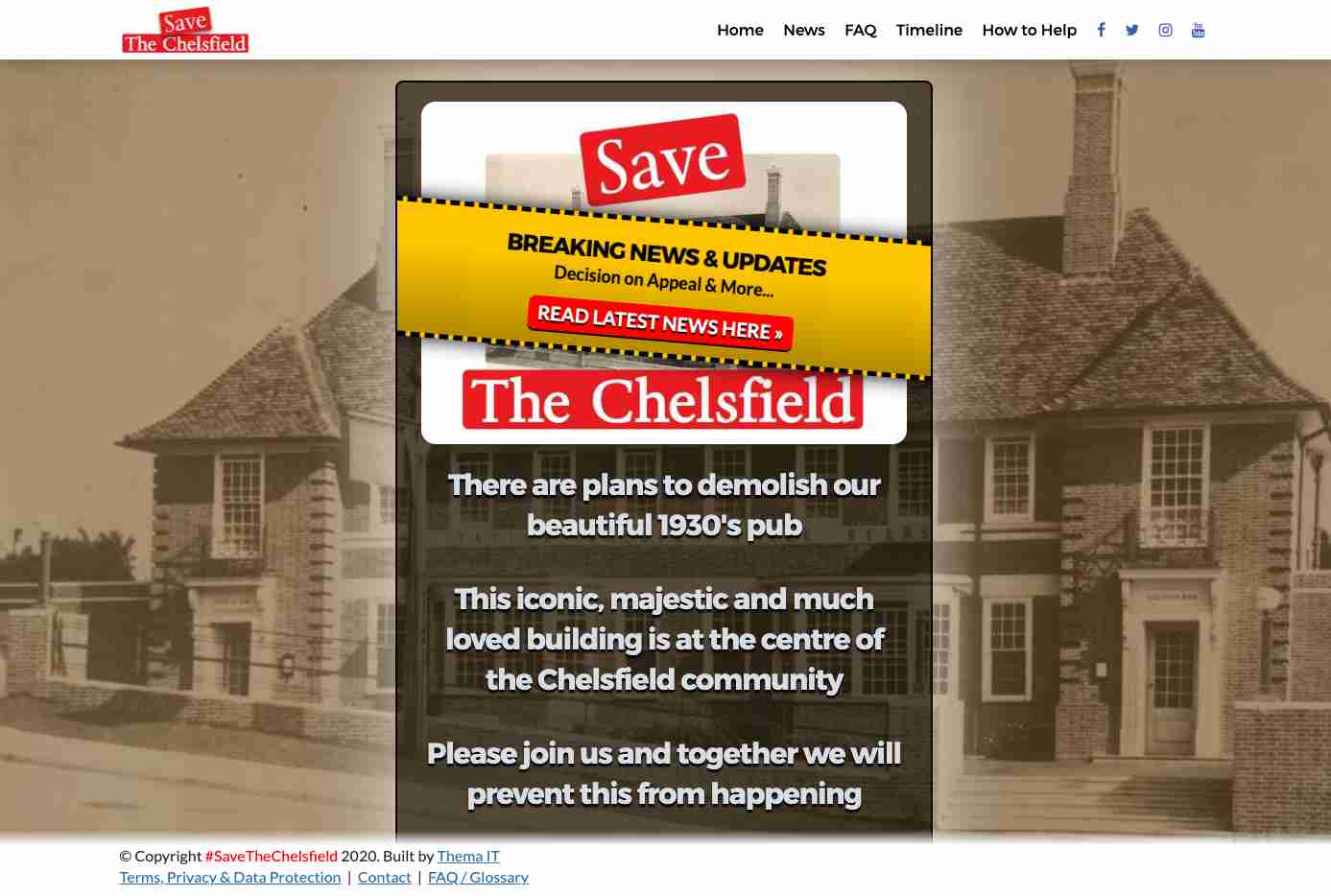 About the client
When a beautiful local pub was threatened with demolition, the local community came together to try and save it. A website was required to share important information about the campaign, as well as to help gain traction via social and mainstream media.
The challenge we faced
Our thoughts
The campaign needed an information rich, yet easily accessible website was required that could promote social media posts while providing in-depth information as how the local community could help the campaign.
This resulted in the following action plan:
Create an easily accessible website to allow access to more information than social media posts would allow
Present serious matters in a lighthearted, digestible way
Give access to important, sometimes technical documentation, easily
Our proposition
Create a CMS backed website which was highly accessible, easily sharable via social media. Ensuring the tone of articles posted were in an easily digested, friendly tone.
We achieved that by:
Creating a CMS backed site
Going into deeper detail than social media posts could
Supplying an easy to use blogging platform
Creating an easily understood, interactive timeline of the campaign
Ensuring information was retained and accessible long after social media posts fade away
Save The Chelsfield - The results speak for themselves:
Save The Chelsfield home page
Why is this better?
Beautiful full-screen parallax imagery
Very visible Calls to action (CTA's) to cover vitally important 'How you can help now' concepts
Showcasing key activities and news (Public meetings and Magnificent Seven)
Show an interactive timeline, of how the campaign was progessing
A complex FAQ section with information presented in an easily digested manner
Why is this better?
Powerful imagery
Breaking down complex instructions and theories into easily understood terms
Not overpowering the viewer with too much information at once
Interactive timeline of the campaign
Why is this better?
Interactive campaign of key points throughout the campaign
Present the information in an interesting manner
Why not go and visit the site, to experience it for yourself!
Back to web case studies